Packages
Spa packages offer our most popular treatments combined into one. Explore the benefits of an extended spa therapy session at a value.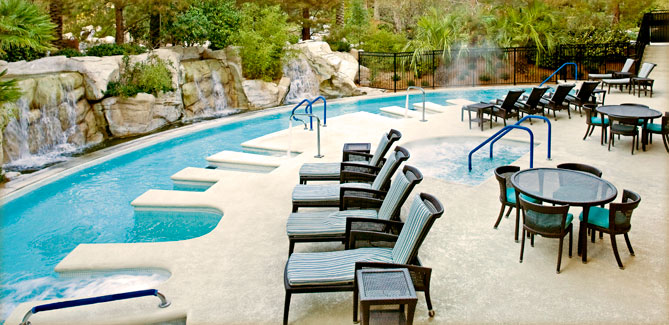 The Renewal
Combining the healing waters of Spa Aquae with the desert essence of Las Vegas this package provides a sense of renewal and rejuvenation. This 175-minute package includes a Desert Stone Massage, CITYLIFE Facial and Quench Manicure and Pedicure.
175 minutes – $352
The Gentleman's Experience
Designed specifically for men, the Gentleman's Experience relaxes away tension and soreness from work or play and smoothes away the rough edges.This 130-minute package includes the Sports Massage and Organic Male Facial. Not valid with other discounts or specials.
130 minutes – $284
Aquae Signature Package
Enjoy true spa pampering with our most popular signature treatments combined. This 210 Minute signature package features the Lost in Paradise, Hydrating Seawater Pearl Facial, and Paradise Pedicure. Not valid with other discounts or specials.
210 minutes – $424
Holistic Harmony
For an optimal wellness experience, we combine our Shirodhara Ritual, Bindi, and Rose Quartz Facial for 210 Minutes of pure bliss.
210 minutes – $492
Click here for Quick Pick Me Up Treatments – Mix and match up to three 25-minute treatments!